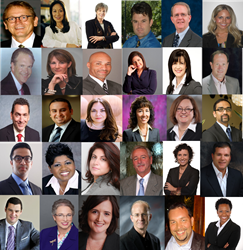 Washington, D.C. (PRWEB) February 24, 2015
If leadership makes a difference, then strategic leadership is the difference the difference between accomplishing organizational goals or not; the difference between thriving or failing through a global economic crisis; the difference between high-performing teams and stagnant ones. On October 14 16, 2015, at the Gaylord National Resort & Convention Center in the Washington, D.C. Metro Area, ARVoices Strategic Leadership Network is bringing together 500 global strategic leaders to share and learn the most innovative techniques designed to tackle the challenges that we face in todays global markets and organizations. The speaker lineup includes New York Times bestselling author, Curt Coffman, Marilyn Tam, Judy Robinett, Dean Lindsay, and more than 40 additional industry strategic leaders, decision makers and executives.
As we move to invigorate our teams, recover from downsizing, develop strategies and tactics to overcome challenges of mergers and acquisitions, and develop and apply standards for service, communication and ethics, research shows that we need more strategic leaders. Their focus extends beyond the role of having and communicating a vision to fully understanding, thinking about, planning, and executing the necessary strategy to realize it. The Strategic Leadership Network was established in 2010 as a platform for leaders to explore, decipher, and interpret the best concepts for achieving organizational excellence, anticipating and responding to change, and aligning organizational systems, processes, and people with enhanced services and profits is supported by ARVis Institute, an international strategy and management consulting firm of eight years based in Columbus, Ohio.
For those seeking to elevate themselves, their teams and their organizations, this event should not be missed. It spans 3 days, 5 keynotes, 1 executive panel, 8 master classes, 36 breakout sessions, 2 evening networking events and a closing networking reception and brings together speakers and attendees from some of the leading and successful public and private entities to include Fortune 500 companies and government, higher education, healthcare and nonprofit organizations.
A powerhouse of talented speakers and decision makers from North American, the United Kingdom and elsewhere will take the podium and share insights and strategies that senior-level executives care about. According to Terina Allen, chair of ARVoices Strategic Leadership Network and president & CEO of ARVis Institute, Attendees will experience learning, sharing and networking at the deepest levels and leave with an understanding that they have the power, influence and ability to shape highly effective teams, to create the organizational cultures they want, and to improve organizational efficacy regarding service, profits, values, and outcomes.
Registration is Open! Attendees who register by February 28, 2015, will save $ 250.
For more information and to review the full multimedia press release, go here https://arvoices.com/news/ or contact Terina Allen, Chair, at (800) 901-1680 or info(at)arvoices(dot)com.